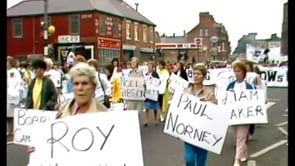 Tar Anall – Supporting Republican Ex-Prisoners & Their Families
Established in 1995, Tar Anall has a long tradition of positive engagement with republican ex-prisoners and their families in West Belfast. The organisation is now over twenty years in existence and it remains a developing organisation that has increased staff skills and capacity, secured vital resources and attracted funding to provide a quality service to the republican ex-prisoner community.
The project continues to seek equality and inclusion for Political ex-prisoners and provide support services to  enhance emotional well – being, increase personal capacity through focused training and create meaningful employment opportunities for the political ex-prisoner community and their family members.
Tar Anall is an accredited centre for the delivery of SIA Security courses  and CSR Health & Safety in the workplace training in partnership with awarding bodies  BIIAB and CEF.
We also possess ISO 9001/2025 Quality   Assurance Management Systems verification through SGS.
Tuesday
9:00 am - 5:00 pm
Wednesday
9:00 am - 5:00 pm
Thursday
9:00 am - 5:00 pm